A new built project of Ellimetal asked for an ideal furnishing partner. After a quick browse, Bulvano turned out to be the perfect partner to advise them on colours and space planning. The result? A serene workplace for all their employees.
In addition to advising the client on colours and space planning, Bulvano also helped determine the floor covering. The workplaces and the cafeteria were decorated in soft, sandy tones for a serene atmosphere. Collections that were chosen are: BeBENCH, U Too by Nurus, Pod Meeting by Martela, Away from the Desk by Orangebox and various collections by Bulo such as TAB and Kei. All the bespoke pieces were followed up by our wood manufacturer Bosq such as the reception desk and the kitchenette.
Feel free to contact us if you have any questions or to make an appointment in our showroom.
Due to a reorganization, Nokia decided to downsize several floors. But the question that arose was: "How will we solve the noise issue?" That's when Bulvano got in the picture.
Although all the employees had to move to less m², they still needed their space to have a skype meeting or to stay focused without distractions. Bulvano decided to remove some big meeting rooms, reorganise several floors that weren't used to their full capacity and add 56 pods by Orangebox instead. This way employees can easily remove themselves in order to work quietly if necessary.
Bulvano also provided furniture for their business center with collections from Orangebox like Away from the Desk and their media units. The coffee corner as well as the entrance hall also got furnished by Bulvano.
Feel free to contact us if you have any questions or to make an appointment in our showroom.
Qualiphar was on the look-out for a more contemporary style in their HQ in Bornem. The entrance, that needed a renovation, consisted of two parts: a ground floor and a first floor that didn't get used anymore. Bulvano took on the challenge to level up these two floors.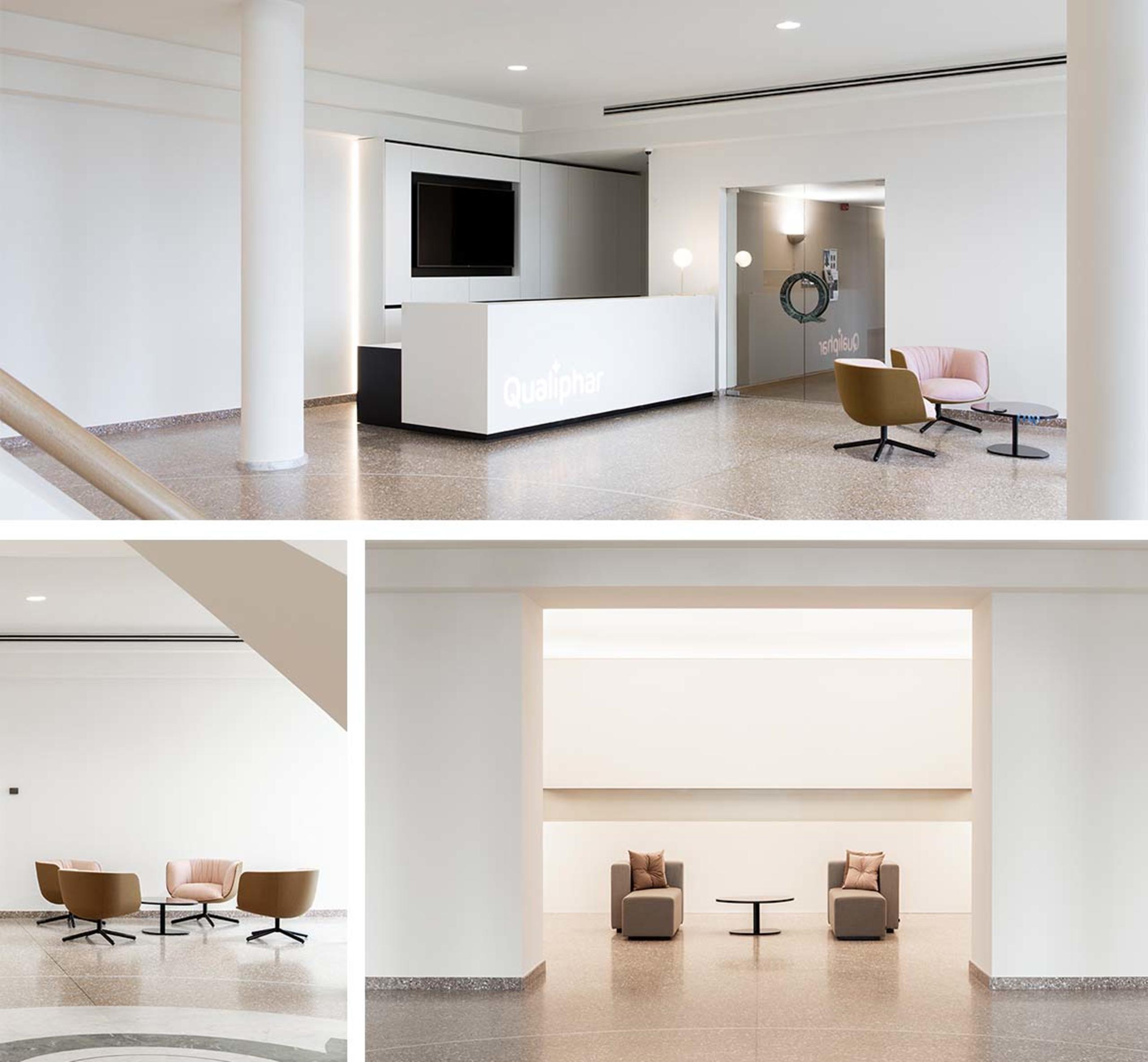 Aside from a contemporary look, Qualiphar also emphasized the functional need of extra office space. Their demand: an office space for 8 people, a place where groups up to 30 people can host a presentation and an optimization of the acoustics.
With a soft seating system called 'Away from the desk' Bulvano gave the upper level a multifunctional purpose. The high and low backs of the sofas create privacy which make them ideal for small meetings or lunch breaks. Because of the integrated cable management, the space is also suitable as a private work area where you can easily concentrate. Events or big presentations? You can also use this zone to host both.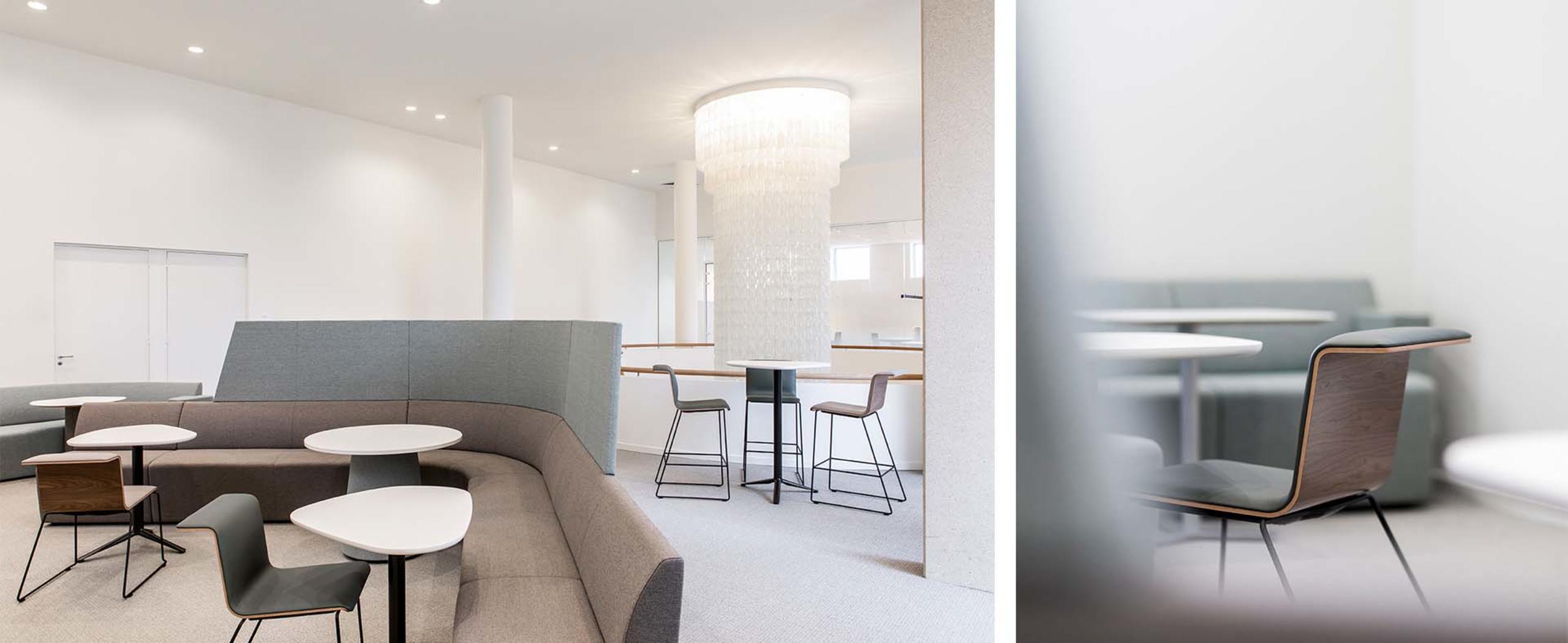 The other half of the upper level was fitted out as an extra office space with height adjustable SENSES desks, designed by Nathalie Van Reeth in cooperation with our mother company Bulo. Other products of 'good design' are the TAB Chair and the Kei tables by Bulo. The bespoke reception counter was made by our veneer studio Bosq.
We've also managed the design & build of: the glass walls, lowered ceilings, paint work, flooring, lighting, stretch ceilings and much more.
Feel free to contact us if you have any questions or for an appointment in our showroom.
Homeras, a company that provides home repair and assistance, was on the lookout for a new interior. We took on the challenge to transform their small working space into an efficient one. In no time Bulvano turned them into a satisfied customer. We transformed a small working space into an efficient one.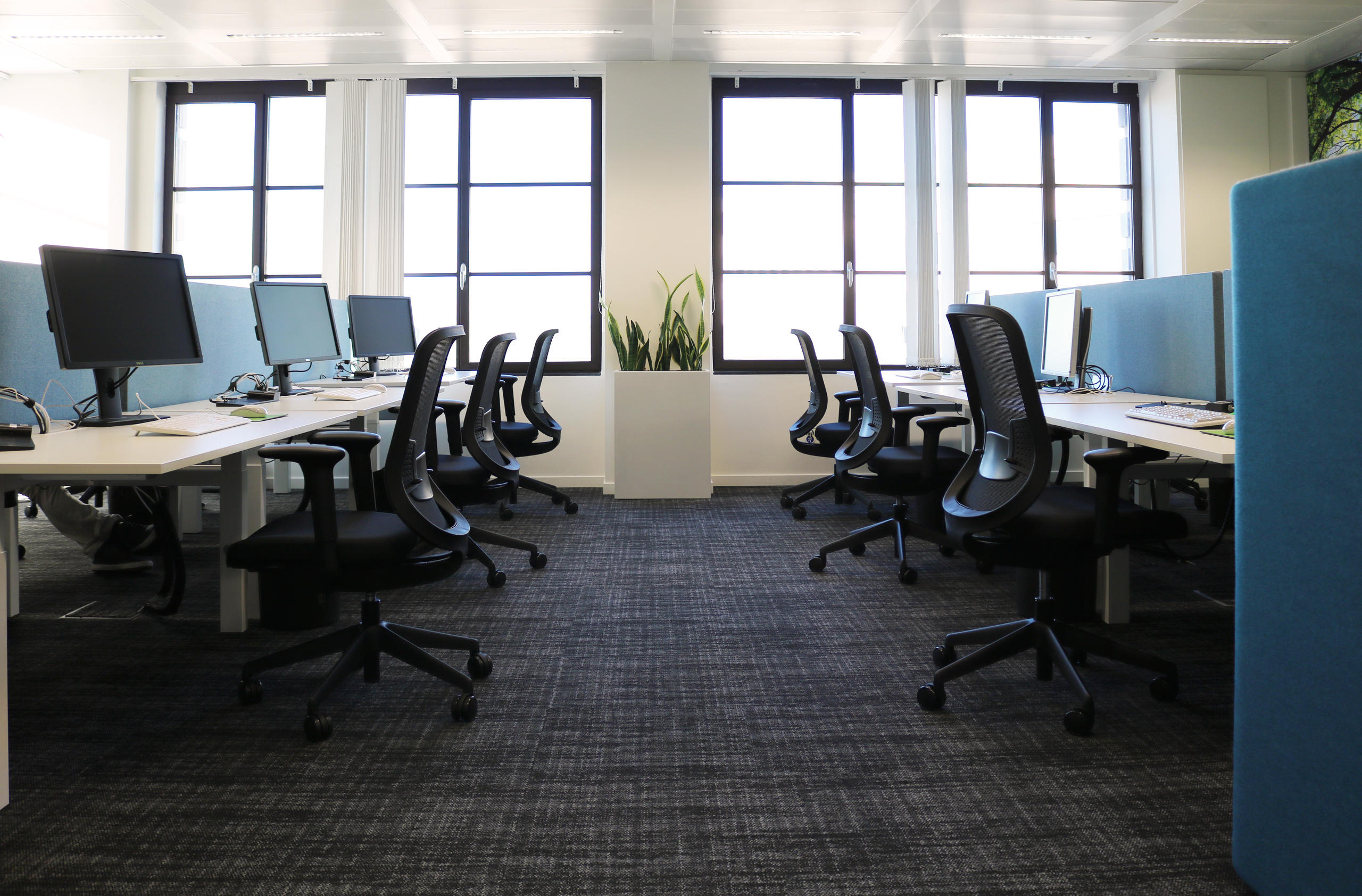 Our Pod Booth – Martela
It can be disturbing to answer a call when you're working with a group of people in small area. By installing the Pod Booth by Martela, the caller can have a conversation in a peaceful and quiet way. The exterior of the Pod Booth also enhances the acoustics in the room. The sound-absorbing design generates silence for the whole office, while creating a private space within the booth. The fabric can be personalised to any desired colour, depending on the design of your office.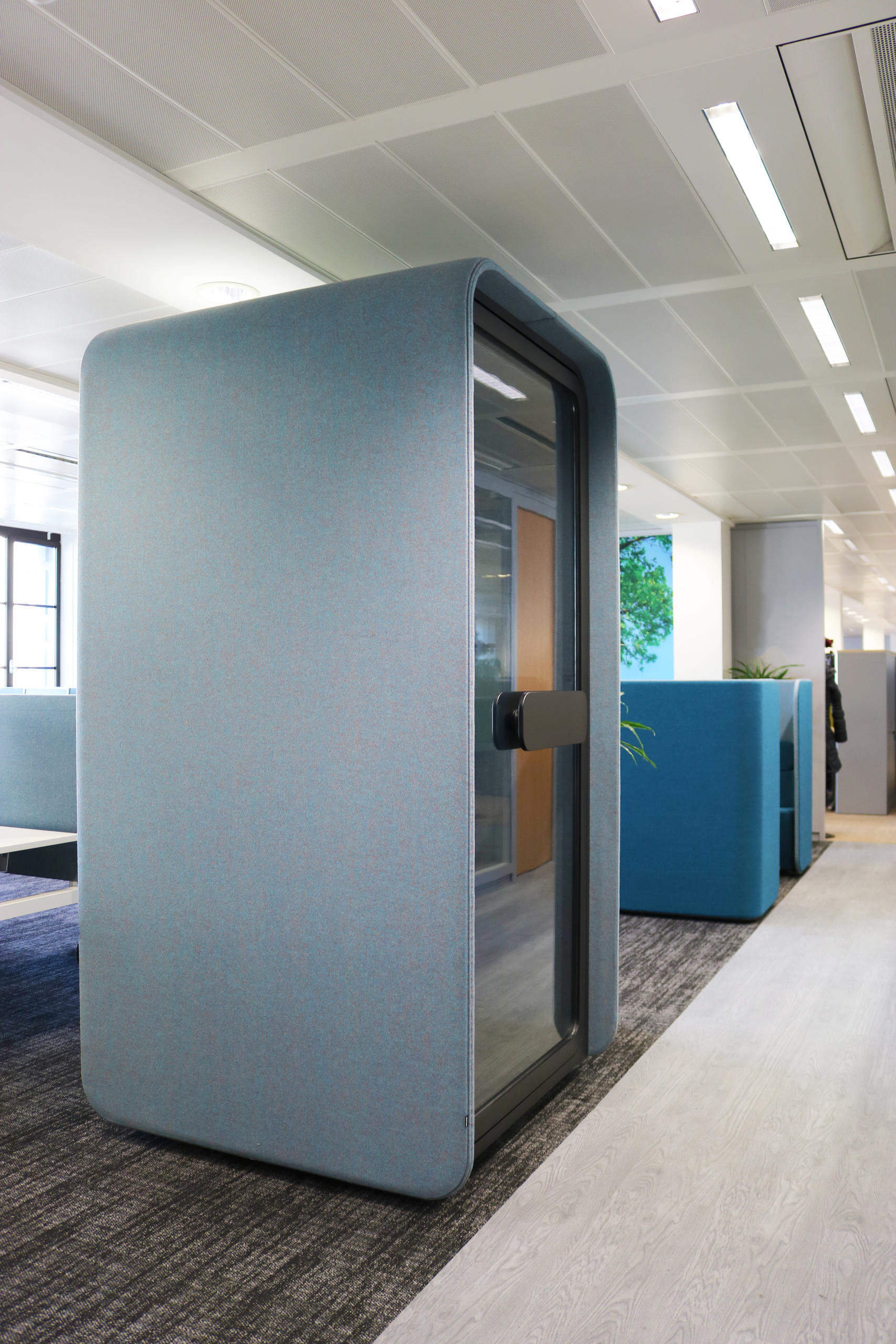 Pod meeting – Martela
The ideal place for private yet comfortable small meetings, that's the pod meeting of Martela. This pod seat comes with an optional power outlet and whiteboard. Again, a very flexible product that can be easily moved to another location.
Did you know that 78% of meetings are between 1-4 people? Homeras also wanted to create a space where these small meetings could take place. In order to optimise the space, we picked out the POD Meeting by Martela. The Pod Meeting comes with an elegant and again sound-absorbing fabric. Additionally, this piece of furniture can be easily relocated when needed. The cushions, the inner part of the back and the main structure can have different colours, creating a customizable and joyful piece of furniture.
The furniture used in this space is custom tailored. The result? Another small meeting place creatively decorated to fully benefit the provided space.
To sofa – Nurus, Rond – Very Wood, Scoop – martela
To, brings a different understanding to modern meetings. To offers a new attitude to serious and conflicting meetings and helps to increase the impact of the presentation with its backrest height and seat depth. Its structure enables a more effective use of body language and brings movement and warmth to daily meetings. From futuristic homes to minimalistic meeting rooms, To seat bench adapts to all areas with its colour options and clear lines. Which creates a functional living space.
Remaining practical, the executive offices needed to be available for different types of meetings, including informal meetings. By combining the To sofa of Nurus with the Rond seatings by Very Wood, we created a small yet cosy meeting area. The Rond is a versatile product available in all colours and different types of fabrics (fabric, vinyl or leather).
The lunch area was decorated with custom made products. With its impeccable design this lunch area can now also be used as a meeting space.
Orangebox – do
The focus of the do is its versatility and adaptability. With it's simple yet user-friendly design, the do is easy to set up and use. This comfortable seating is a pleasure to every user in every way. The Do adjusts itself to its user, making this ergonomic chair ideal for flex spaces.
Bedesk – BeCollection
Bedesk can be automatically adjusted to the user's height: standing or seated. Completed with high quality chairs, this desk matches the office perfectly.
Obvio – Orangebox
The client asked for our advice concerning their main meeting room. It had to be a versatile room where meetings for a bigger group of people needed to be held as well. By decorating it with the Obvio flip table, this room is now multifunctional. This desk, which is 2,4 meters long, can be folded and rolled to the side if necessary. The Obvio is available in all shapes and sizes, suiting the client's needs.
The Basecamp of Club Brugge is a state-of-the-art building from the hand of Goedefroo+Goedfroo architects. Club Brugge, a well-known name in every household in Belgium was looking for a brand that would be able to decorate the interior of the Basecamp. So that's when Bulvano was put in the game. With our wide offer of brands, Bulvano could give an answer to the needs of Club Brugge.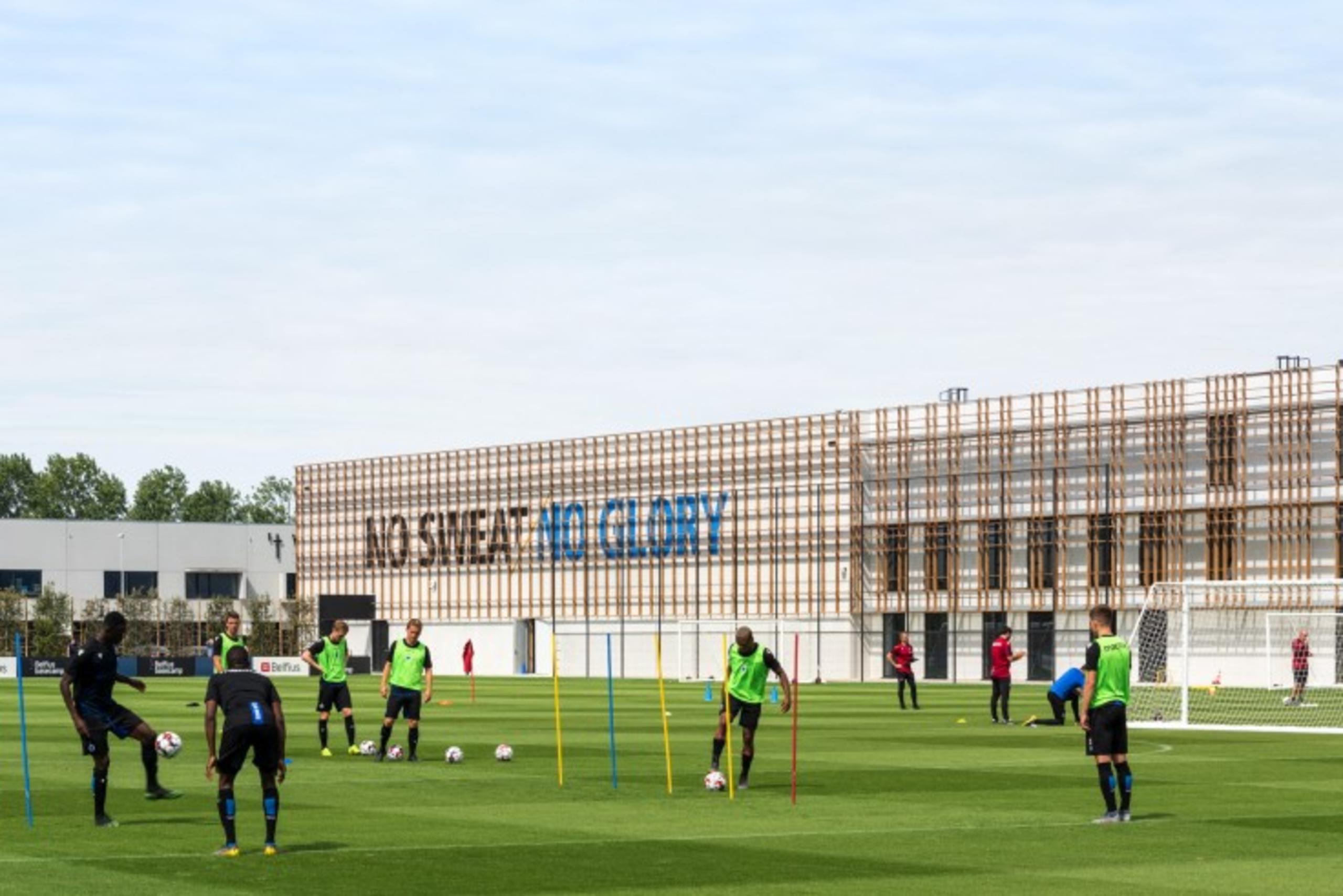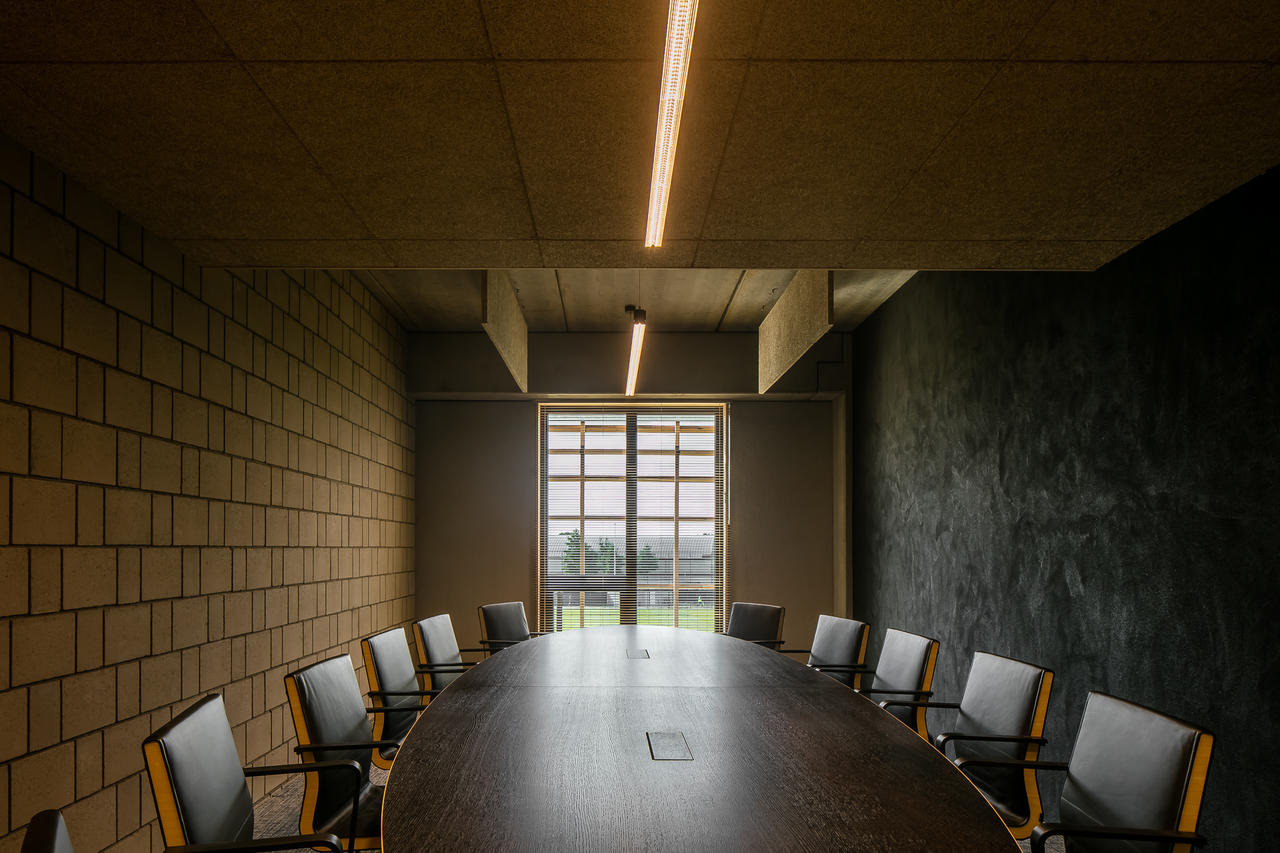 We used some of our exclusive brands to establish this project, such as:
Special Silva workplace – Nurus, Connex office chairs – Kloeber
With the special silva workplace from our exclusive brand Nurus, we used warm toned wood to create a homely atmosphere. The acoustic panels create a silent workplace to enhance concentration.
The Connex office chairs by Klöber carries fully automatically responding functions which make it very easy to move while sitting in an ideal position.
1
2
3
4
Away from the desk – Orangebox

In between the workspace we placed some comfortable sofas from our exclusive brand Orangebox. It creates an environment where you can organize a small meeting or work individually.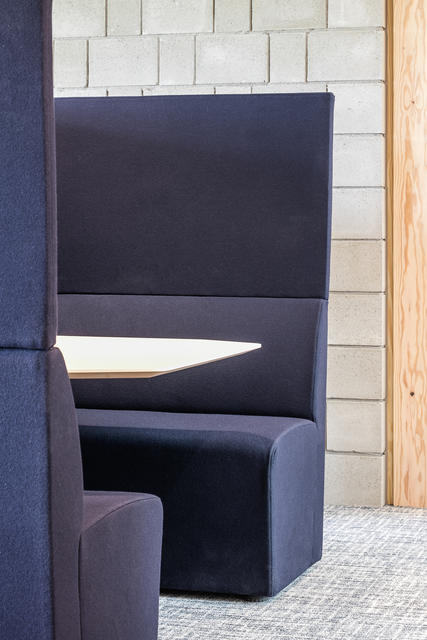 1
2
Slide door cupboards – Vario

The Vario cupboards have a very high usable but sleek design. They offer a blank space to further decorate the building while remaining convenient to the workspace.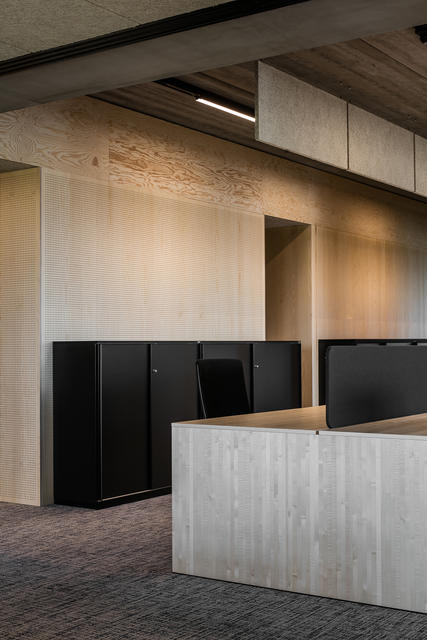 1
2
3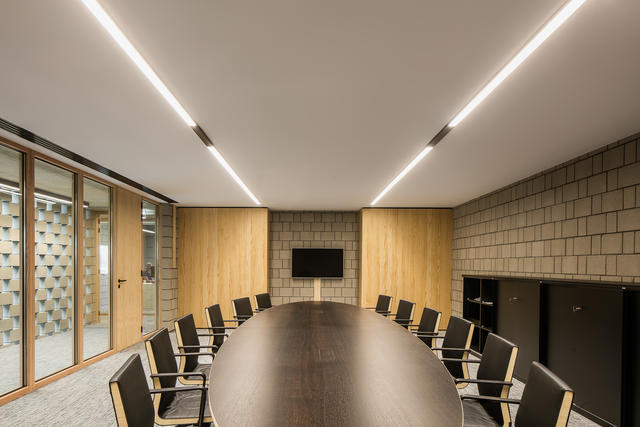 4
Accoustic Table Screen – Zilenzio

The acoustic table screens of Zilenzio come with high quality and respect to both design and noise reduction, enhancing concentration and more focused working.
Sola chair -Martela

The Sola universal chair with castors is suitable for short term meetings as well as for drop-in workstations and easily fits into different types of spaces.
Inno desk – Nurus

The Inno desk ensures that quality feeling and elegant look, ideal for the management desk.
Our parent company Bulo complemented the design with stunning pieces by some of their top-notch designers such as Vincent Van Duysen, Stéphane Beel and many others.
Challenge
Familiehulp is a Belgian organization with headquarters in Brussels and with different subsidiaries all over Flanders. With more than 11000 employees, they provide home support services to elderly people, young families and everyone in need. They tailor their services to the needs of each individual to provide trust, innovation and quality service. A new building is constructed in Ghent to centralize different departments and to improve every aspect of their core tasks and responsibilities. The choice of furniture used in the offices has to be aligned with the activity based office-principle. Every type of work has different needs so the solutions provided by Bulvano were well-chosen to fulfill these needs the best way possible. Doing so, it enhances the productivity as well as the satisfaction of the employees.
1
2
3
4
Solution
It is important to have a crystal clear idea of the different tasks the employees have during the day. There's no need to be in a fixed location during the day. The choice of the furniture should encourage people to use every solution based on the task they are on. Closed solutions are implemented to provide employees the possibility to work alone or in group in a concentrated manner. These solutions are often alternated with semi-open solutions with acoustically limited features. By organizing the space in the above-mentioned fashion, excess noise and unwanted disruptions are excluded from the office environment. The offices are able to support 80% of the employees at the same time to encourage working from home.
1
2
3
Result
The carefully chosen configurations are implemented according the activity based office principle and are being used by the employees of Familiehulp. No walls were used during the construction of the office area to maintain maximum flexibility. Another important aspect regarding the flexibility is the implementation of a locker system for each employee so pedestals are no longer needed in desks as well as the implementation of the clean desk principle. Pictures are added on the walls of Bulvano's BeROOM to increase the employee's connection with the core values of the organization.
Challenge
PricewaterhouseCoopers (PwC) is one of the "big four" of international audit and consultancy companies. PwC considers human capital as paramount, so it built a new headquarters in Luxembourg for nearly 2,500 employees where values such as transparency, social commitment and sustainability are now more tangible than ever. In addition, PwC wanted to increase its attractiveness even more for the new generation of high potentials.
1
2
3
4
The Bulvano design stimulates the interaction desired by PwC between the experience of PwC partners and the fresh ideas from the new generation of consultants
"
Solution
Even though smart working is taken for granted by first-class consultants, the profession lacks well-thought out smart solutions for interior planning. Bulvano was taken by the new PwC logo and the clear the values it stands for. Thanks to a sophisticated but clear space plan, Bulvano stimulates the information exchange throughout the building that is so important for PwC. This is symbolised by the numerous walkways and pleasant meeting places. There is even a bar in the Parisian style that has the added advantage of relieving the burden on the "full-time" meeting rooms. And, in the Academy Zone, the VIP areas and the central Atrium, Bulvano balanced the combination of PwC corporate chic (expressed in wood) and the open corporate culture (expressed in glass and bright colours).
1
2
3
4
Result
The cross-fertilization desired by PwC between the experience of PwC partners and the new ideas from the younger consultants is now expressed organically. Thanks to all areas being optimised to the smallest detail and the furniture specially designed for PwC, different moods can be created throughout the day. So, the same room can be simply formal or playful, informative, and informal. The essence of an audit firm such as PwC lies in always advising clients with a view to a worthwhile future. This "future-proof" DNA is now practical and can be clearly seen everywhere. This approach allows all generations to feel at home at the new location and encourage each other's qualities.
1
2
3
4
Challenge
"Christelijke Mutualiteit" (CM) has 4.5 million members, which makes it the largest health insurance fund in Belgium. Under the new motto "Together, everything is better", the CM wants to put more effort than ever before into handling the many challenges in the healthcare sector, including in South-West Flanders. The Ypres and Kortrijk locations lack space and struggle with an ageing infrastructure, so the organisation opted for a merger in a new building at the Kortrijk Benelux Park. After a thorough needs analysis based on many discussions within the organisation, the B2B interior architecture bureau Arredo created a preliminary design. This gave rise to a sustainable architecture. To further translate this vision into the interior concept, Arredo also advised CM South-West Flanders in the search for a partner for this project and organised a selection procedure.
1
2
3
4
Each day, more than 200 CM employees and a multitude of CM members arrive at "home" in the new building that reflects like no other the new manner of working… and providing care.
"
Solution
Bulvano won out over many other all-round interior fitters because it could convert the CM requirements (flexitime option, open communication culture and multifunctional space) completely into the concrete well-being of both CM staff and its members. For example, Bulvano developed the "Quadro Bench", a workstation that staff can adjust to their needs, and fitted all "full-time" meeting rooms with customised meeting tables and projection walls and discretely integrated the required technology. The boardroom also stands out in its elegant restraint. In addition, there is room for both privacy and openness in the informal meeting areas. Let's not forget to mention that the cafeteria can be transformed into a modern training room in no time at all. The motto "Together, everything is better" does indeed make CM a "learning organisation".
1
2
3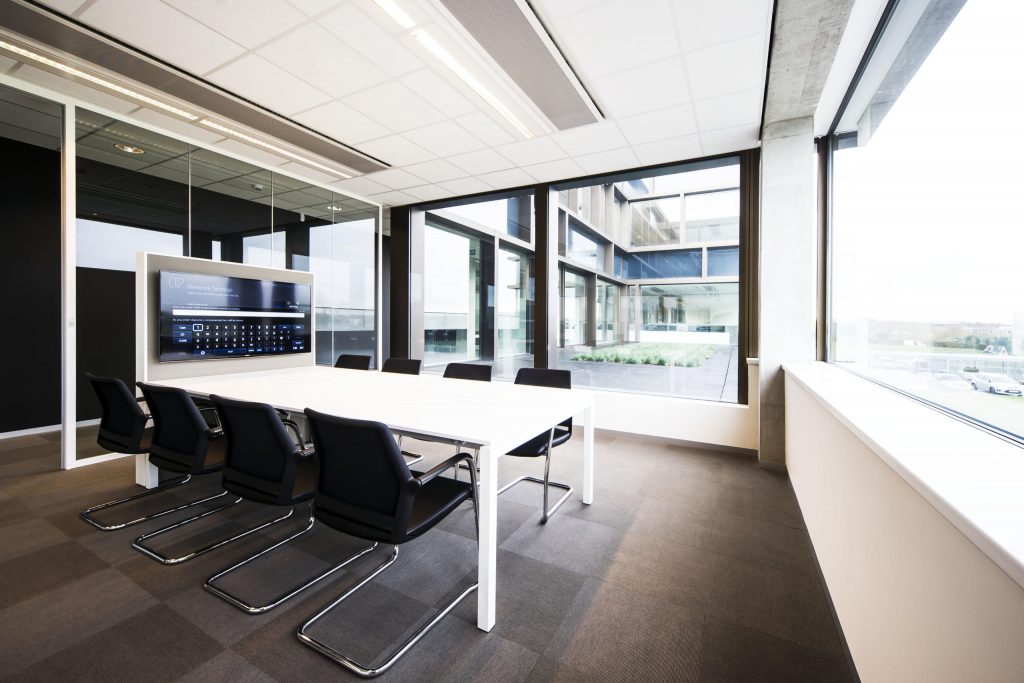 4
Result
An "open office landscape" with a human dimension. Privacy (especially in the doctors' work rooms is essential), openness and ergonomics tailored to each employee are harmoniously combined. The CM "soft values" are emphasised throughout the building with soft seating in relaxing colours that create a warm, human atmosphere. Each day, more than 200 CM employees and a multitude of CM members arrive at "home" in the new building that reflects like no other the new manner of working… and providing care. In the meantime, the project has been received very positively by employees, external partners and other CM departments.
Challenge
'Solidariteit voor het Gezin' is an autonomous organisation that provides home care services with about 500 administrative employees that manage and support no less than 5,000 ambulant carers. Home care is changing fundamentally (evolving from supply driven to demand driven and thus more flexible services for families and patients), so it was decided in mid-2014 to introduce the principles of the "New Way of Working" in future offices. The organisation decided to implement a fundamental change process and align its philosophy of "customised care" with its own employees so that they can work more flexibly than ever before. Bulvano had one year to roll out this organisational "reset" in four departments that needed to relocate.
Each of the locations was different, so Bulvano developed a basic concept with team workplaces
"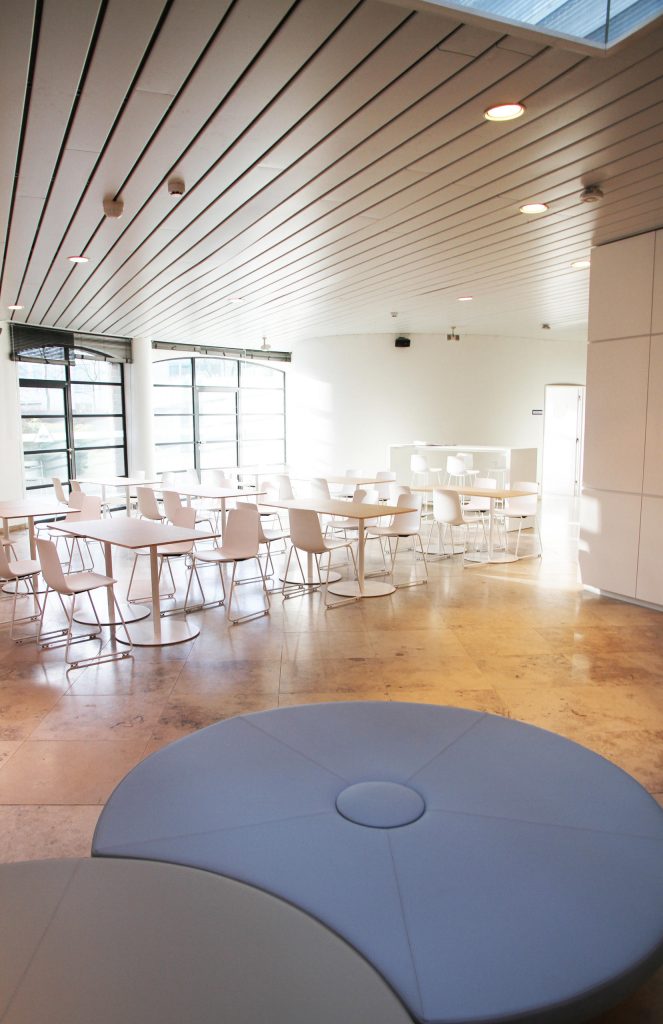 1
2
3
4
Solution
Each of the locations was different, so Bulvano developed a basic concept with team workplaces: office space was and will be set up so that about twelve employees can work in a work space. To address the motto "customised working", Bulvano designed movable acoustic partition walls that provide additional flexibility. Based on the changed composition of the teams, the workplaces can be divided up for groups of four to six people. The passageway to functional facilities (printing and filing) and "human facilities" (for consultations and meetings) were always seamlessly integrated. In addition, the use of large images on the walls is customised and stresses the organisation's commitment to both clients and employees.
1
2
3
4
Result
The 350 office workers at its headquarters in Ghent and at the departments at Lokeren, Oudenaarde and Bruges now work in offices where the sense of space is always maximised and where they – again with customisation – choose the most suitable working environment. Moreover, Bulvano ensured that the logistics of delivery, assembly and the final relocation of the staff barely took half a day. This approach minimised the impact of internal changes on clients. Together with Solidarity for the Family, Bulvano proved that the "new way of working" is at the very least a catch-all term that results in new ergonomic furniture. The remaining departments will follow suit in the course of 2015 and 2016.
Challenge
When Belgium's Federal Public Service for Social Security switched to flexible working in 2009, 70% of the 1200 civil servants opted to work from home. One-third of them did so one day a week, one-third two days per week and one-third three days a week. This change of culture created a need for more space for conferences and meetings. Chairman Frank Van Massenhove also wanted the building to have a 'conference floor' that promoted the organisation's identity for its own employees and provided a pleasant setting for collaborating and creating with external partners.
1
2
3
4
Bulvano designed noise absorbing walls with real-life photographs
"
Solution
Bulvano suggested to the client uniting the philosophies of smart working and multipurpose use and completely rethought the space plan of the -2 level of the building. Fixed furniture was replaced by solutions easy to assemble and disassemble. These included BeROOMS developed by Bulvano in association with Axel Enthoven. Bulvano designed noise absorbing walls with real-life photographs of external stakeholders of FPS Social Security. Besides confirming the identity of the organisation for its employees, they create an attractive backdrop for external parties who rent the space for events.
1
2
3
4