Challenge
"Artesis Plantijn Hogeschool" is a well known educational institution in Antwerp, Belgium. A collaboration between POLO Architects and Bulvano has proven to be a sublime mix of ingredients to create a magnificent building. Situated at "Park Spoor Noord" close to the center of Antwerp, the building is one of the newest eye catchers of the city. The idea was to get rid of the old fashioned way of dividing spaces into more open environments to stimulate interaction and creativity.
The colors of Bulvano's configurations needed to be chosen in a way to break the neutral choice of materials which are being used to construct the building – Bea Geboers (Interior Architect at POLO Architects)
"
1
2
3
4
Solution
POLO Architects created an environment both challenging as well as inspirational. They amplified their idea with a well-considered choice of Bulvano furniture. Colorful, informal configurations were added next to the more formal auditorium furniture. Self-fulfillment should be made possible not only between the walls of an auditorium but outside as well. Bulvano's Diagonal provides seating for students to collaborate or to have a chat. The auditoriums are optimized for the needs of students in order to provide an ergonomic way of sitting during courses. Students and lecturers should feel at home when attending Artesis Plantijn.
1
2
3
Result
The carefully chosen configurations are meant to stimulate cross-fertilization between students. Shades of red were chosen as a reflection of Artesis Plantijn's corporate identity while numerous tints of green refer to the green area of 'Park Spoor Noord'. Also blue was taken into account which is the universal color of jeans and related with students. The diagonals which are visible in the structure of the building are drawn into Bulvano's configurations. Thanks to the structure of the building along with its meeting areas and interior, Artesis Plantijn is an unmatched benchmark. Photography © Stijn Bollaert
Challenge
The Vlerick Business School has now positioned itself principally as a knowledge architect that facilitates students in acquiring management know-how. The traditional way of learning was set aside and a London-based agency, Brandon Consultants, then developed a bold new corporate identity built on the values of 'international, open, vital and pragmatic'. Bulvano was asked to translate this identity into tangible reality at the three Belgian campuses (Ghent, Leuven and Brussels).
The intention was to stimulate innovation, creativity and interaction.
"
1
2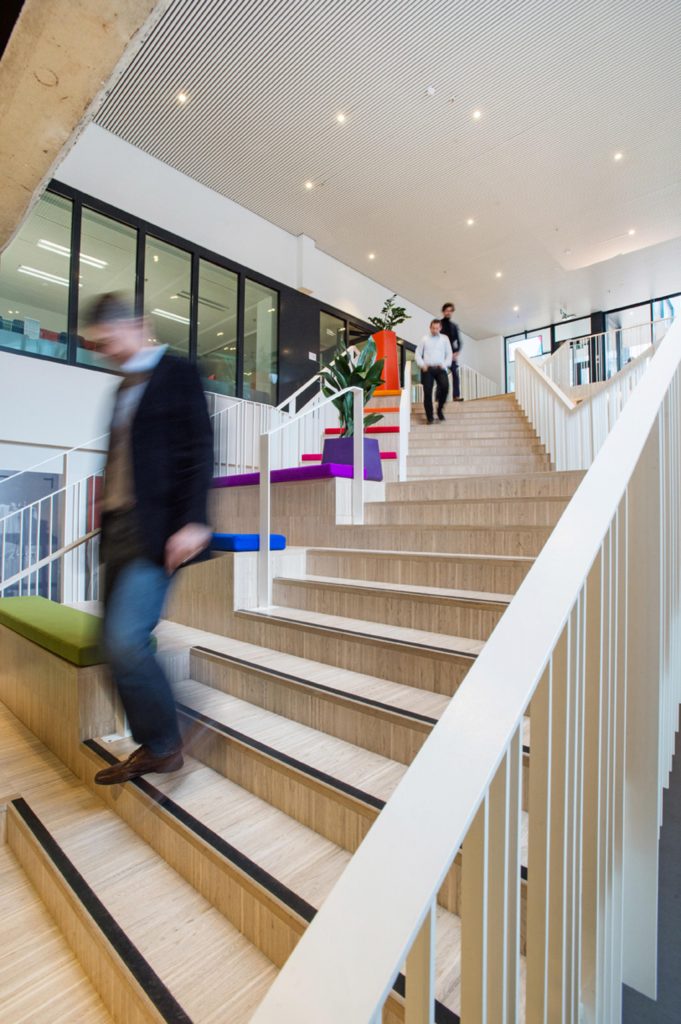 3
4
The campuses retained the 'Vlerick touch', among other things through furniture designed in a V-shape
"
Solution
In consultation with Vlerick's general director Patrick Degreve, Bulvano wanted to interconnect the brand values even more strongly by means of the furnishings. This turned out to be a creative quest, because the branding called for use of very bright colours, completely at odds with a traditional academic environment. The intention was to stimulate innovation, creativity and interaction. Bulvano extended the newness of the concept down to the very last detail and created waiting rooms, gatekeeper lodges, auditoriums and workstations to be as multifunctional as possible.
1
2
3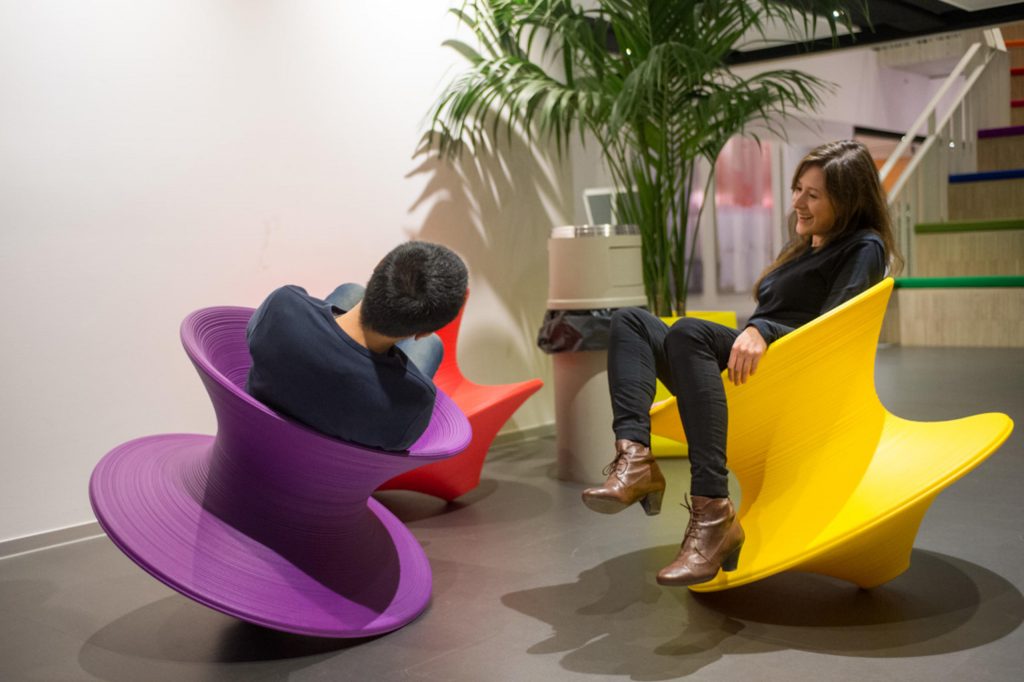 4
5
6
Result
Despite the architectural differences between the campuses, Ghent (completed 2007), Leuven (2010) and Brussels (2013) form a unity in which everything communicates with each other. In each case a platform was created to stimulate the participative way of learning at international level. At the same time the campuses retained the 'Vlerick touch', among other things through furniture designed in a V-shape, and the aforementioned attention to detail.
Challenge
Dexia Bank (now Belfius) is still one of the largest players in the financial sector despite the crisis. From the start of 2009 through to the end of 2012, it was necessary to refurnish 820 branches. Besides new furniture the bank wanted customisation to reflect the kind of personal service its aims to provide. Dexia/ Belfius further required considerable flexibility, which necessitated an adapted stock policy.
Bulvano won the contract thanks to its working method.
"
1
2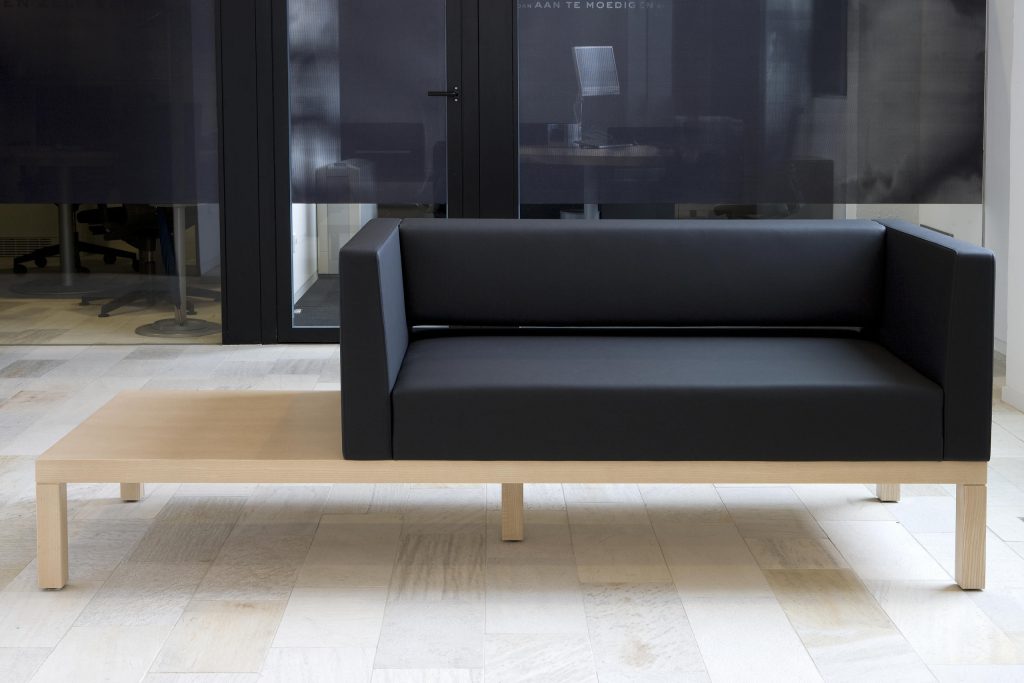 3
4
Solution
Bulvano won the contract thanks to its working method. This involves a coordinating senior technician/engineer centrally controlling the different teams. Customisation was accomplished very efficiently through partnerships with renowned furniture manufacturers like Nurus (Turkey), Dietiker (Switzerland) and Wilkhahn (Germany). Thanks to these preferred suppliers, Bulvano was able to use their basic elements, while providing them with new underframes, for example. This approach resulted in the development of 'stand-up information points', whereby the bank employee stands alongside the client without any kind of hierarchy. As the size of the branches varies considerably and because the client and architect faced different challenges at each branch – with around 275 having to be modernised each year – Bulvano even constructed extra warehouse space so as to deliver just-in-time.
1
2
3
4
Result
The result was accessible, open branches where it is possible to conduct banking business transparently, with a lot of attention to the personal comfort of the end-client and the staff member. A blanket survey revealed that despite the change of name both parties still feel committed to 'their' bank partly thanks to the well thought-out use of colours.